A step-by-step guide for launching your SMB on the web
I'm so glad you're reading this guide. It means you're serious about turning your business idea into a reality or taking your enterprise to the next level. You understand that to truly compete in today's marketplace, you need a strong presence on the Internet. That's where your customers like to spend a whole lot of their time — reading, watching, researching, socialising, and buying.
FACT: 87% OF ADULTS USE THE INTERNET — AND THEY TURN TO THE WEB MORE THAN ANY OTHER SOURCE TO FIND LOCAL BUSINESSES AND SERVICES. IF YOU'RE NOT ONLINE, YOU DON'T EXIST TO COUNTLESS POTENTIAL CUSTOMERS.
BE MORE ACCESSIBLE
Don't penalize me for shoe shopping at midnight — enable me! Unlike an actual storefront, a website doesn't close up shop at 5 pm. It's open 24/7 to showcase your products and services, contact information, store hours, and more.
BUILD YOUR BRAND
No big advertising budget? No problem. No matter how small you are, you can afford to use a website, social media profiles and other web-based efforts to raise brand awareness, establish credibility, and develop a loyal — and growing — customer base.
ESTABLISH CREDIBILITY
I can't find your business ANYWHERE online? No website or Facebook page or Google review? You must not be legit. Sorry, that's how consumers think these days.
CONNECT WITH CUSTOMERS
We all want to be Liked, right? The Internet offers endless possibilities for engaging with your target audience, in real-time, in the comfort of your pajamas.
GENERATE SALES LEADS
Because let's be real — that's what it's all about. You can boost your customer base with a website, social media profiles, contact forms, and email marketing campaigns. I promise.
Access to computers and the Internet has become a basic need for education in our society. – Kent Conrad
Want an easy way to picture how your domain name and website work together? Property. Your website is your house, sitting on a piece of property with a street address. That property is known as your hosting account — the space on the Internet where you place the files that make up your website. People find those files (which they see as your website) by going to your online street address. This is your domain name. Do you need a domain name – Click here for more information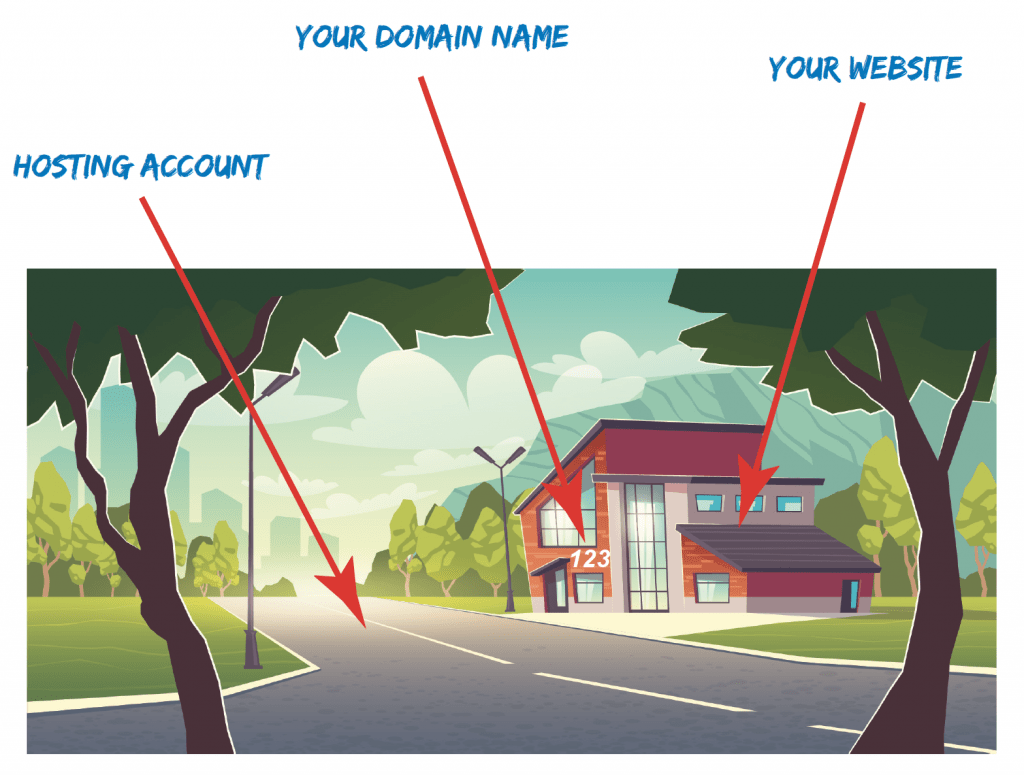 STEP 1: GET A DOMAIN
Your domain is the part of your website address that comes after the www. Like this: www.coolexample.co.za
For a business, a domain name can also anchor a professional email address. Like this: info@coolexample.co.za
Let's say I'm looking for a plumber in Edenvale. I whip out my cellphone, tap Google, and enter "plumber in Edenvale" — and voilà! I get a list of search results that include relevant websites identified by their domain names.
You want your business to show up in search results when potential customers are looking online for the products or services you offer. That's the goal. Getting a domain name is the first step to reaching it.
STEP 2: PLAN YOUR WEBSITE
With that domain name in hand, you're ready to start thinking about your website.
That's right — thinking about your website. Like most everything else in business and life, a bit of planning goes a long way toward ensuring that your site will do all the things you want it to do for your business.
Do you want your website to inform? To inspire? To generate sales leads? To actually sell products or services?
The nature of most business websites is either informational or sales-driven. Is it enough for your website to showcase your products and services, or do you want visitors to be able to buy them directly from the site? If so, you'll want an e-commerce website. When you figure out what you want your site to do for your business, you can begin building the type of site that will achieve those objectives.
PREP TO SELL ONLINE
If you plan to sell products or services on your website, you'll need an e-commerce website, also known as an online store. This type of website requires a few more specialised parts than a standard website. Here's what you'll need to plan for:
A SHOPPING CART
This tool will let you display product images and descriptions. Look for a cart option that includes important features like shipping options and inventory tracking.
PAYMENT PROCESSING
While you can use a third-party service like PayPal to collect payments, establishing your own merchant account to accept credit card payments will give your business more credibility. Merchant accounts let you accept payments from major credit, debit, and gift cards on your site — so your customers don't have to leave your online store to pay for their goods.
SSL
The first thing most savvy customers look for when they make a purchase online is an SSL (Secure Sockets Layer) certificate. SSL certificates are digital certificates that encrypt the information your customers send when they purchase products or complete forms on your website. Visual indicators of an SSL can include a padlock icon in the browser, https:// before the website address, and a green address bar.
STEP 3: CREATE REMARKABLE CONTENT
TELL YOUR STORY
So, what's your story?
Every business has one. And a compelling story drives an effective business website. How did you get started? What do you tell customers about your business, or how do you explain to friends how you make a living? What problem can you solve for your customers, as only you can?
Think about your mission, your passion, and what makes you stand apart from the competition.
THEN START WRITING
It could be as simple as this: "I started baking with Mom when I was barely tall enough to reach the kitchen counter. She taught me everything she learned from her mother and grandmother and encouraged me to pursue my passion in college. I started my bakery right out of culinary school. Today, I might not end up covered in as much flour, but I still love baking as much as I did when I was a kid. I think you'll taste that passion in my cookies."
And that, my friends, could be the anchor text for your home page.
FOCUS ON THE CORE PROBLEM YOUR BUSINESS SOLVES AND PUT OUT LOTS OF CONTENT AND ENTHUSIASM AND IDEAS ABOUT HOW TO SOLVE THAT PROBLEM. – LAURA FITTON
5 CORE PAGES
You're going to tell that story throughout a handful of pages on your website. I think five core pages — Home, About Us, Products/Services, Testimonials, and Contact Us — makes for a solid small business website, but you really can do it in as few as three pages.
Developing the content for these pages requires telling your story with words that count (text) and images (photos, videos, your logo, etc.), presented in an appealing way (that's the design factor).
It's important to make this space — your website — easy for visitors to travel through, or navigate. A click here, a link there, and they'll get a clear idea of who you are and what you can offer to them.
GET INSPIRED
Not sure how to start telling your business's unique story on your website?
Well, you don't have to do it alone.
Here are a few places you might find inspiration from:
– talking to friends
– customer referrals
– existing brochures and other marketing materials
– company newsletters or cards
– other websites
Take a look at what other successful businesses in your industry do on their websites, and note what you like and what you don't. There's nothing wrong with getting a little online inspiration, just don't copy someone else's content.
DESIGN BASICS
Even if you hire a pro to build your site for you, you'll need to make (or at least approve) decisions about the look of the site — its design. Here are a few design fundamentals you'll want to consider:
Think about how you want to incorporate your company logo into your website's design. Maybe you want to echo the colours of your logo on your site or make the logo "pop" against a contrasting background.
COLOURS
For brand harmony, it's important to choose the right colour palette for your website. Do you own a creative company? Perhaps vibrant colours like hot pink and tangerine speak to your brand. If you're in the professional services industry, more subtle hues such as charcoal and blue might be more appropriate.
THINK ABOUT THE FEELINGS COLOURS EVOKE FOR YOU AND MATCH THEM WITH HOW YOU WANT YOUR CUSTOMERS TO FEEL WHEN THEY VISIT YOUR WEBSITE.
FONTS
The way type on your website looks impacts readers subtly, but because text is everywhere on your site, it adds up to a substantial impression. Think about the fonts that might best represent your particular business — from bold, linear styles to more delicate, feminine fonts.
LAYOUTS AND MORE
Consider the amount of "whitespace" (space between elements) in your design. A lot of whitespace can denote clarity or simplicity while having very little of it can make your site look active or intense. Other elements, like background colours, gradients, and the "texture" of your overall design can contribute to your online impression. By putting a little thought into these basic design elements, you'll make big strides in telling your story, building your brand, and framing your products and services in the best possible light on the web.
PEOPLE IGNORE DESIGN THAT IGNORES PEOPLE – FRANK CHIMERO
BE MOBILE READY
Here's a staggering mobile fact from our friends at Google: 80 percent of smartphone users do shopping research on their phones. They tap and swipe their way through search results, websites and reviews to figure out what they're going to buy, and from which seller.
What then? A full 50 percent of those mobile-savvy searchers visit a store within a day.
If your website isn't easy to tap and swipe, you're outta luck. More than just a site you can see on a phone, a mobile website is optimised for use on a smartphone and other mobile devices. It's designed for a positive user experience on mobile. Whether you design your own website or hire a designer to do it for you, make sure your business website is mobile-responsive.
STEP 4: GET FOUND
Congratulations! You've already accomplished the first rule of thumb for getting your website found — creating relevant content. The type of content that will resonate with your target customer. Keep at it. (Oh, didn't I mention that content creation is an ongoing process? Keep it fresh, that's the mantra.) Now it's time to take the extra steps needed to boost your business's visibility online.
Enter search engine optimisation, fondly known as SEO.
SEARCH ENGINE OPTIMIZATION (SEO): THE PROCESS OF REFINING A WEBSITE TO GET HIGHER SEARCH ENGINE RANKINGS AND ORGANIC VISITORS TO YOUR SITE, WITHOUT PAYING FOR SEARCH ENGINE PLACEMENT.
Imagine you're a chef who's spent a week perfecting a new recipe. If you don't get it on the menu, it's going to collect dust back in the kitchen because most of your customers aren't going to know about it. It's the same way with your website — you've cooked up all this amazing content, and you want search engines like Google and Bing to serve it up to potential customers in their search results pages.
Make it and they will come? Um, no.
A strong organic search ranking will work wonders at attracting visitors to your website. Unlike paid listings — advertisements that display in sponsored areas — organic search results are "free" and based on, among other things, the site's content and how closely it matches the keywords being searched.
THERE IS NO BLACK MAGIC TO SUCCESSFULLY ATTRACTING CUSTOMERS VIA THE WEB – RAND FISHKIN
HOW DOES SEO WORK (IN A NUTSHELL)?
The fun begins after you (or more likely, your website guru) does the website backend stuff needed to attract the attention of the almighty Googlebot. Now, search engines know that your site exists. They scan it, index the information, and analyze the website's content to determine how and where your site should display on the results page. Your site won't rank well if it isn't optimised.
While each search engine has its own set of ranking criteria, they all look at these same basic but key elements:
RELEVANT PAGE CONTENT
Again, KING. A good rule of thumb is to include between 300 and 700 words per page, focusing the page content on its target keyword's subject matter.
KEYWORDS
Do some research to discover what select words and phrases people use to search for your type of business. Sprinkle these keywords throughout the content on your website.
META TAGS
These are HTML tags that contain info to help search engines know what your site's about. They help describe your website in search engine results (see Tag, you're it).
WEBSITE NAVIGATION
This covers all the links on your site and how visitors navigate from page to page. Like visitors, search engines rely on good navigation to get around your site.
IN THE WORLD OF SEO, A BROKEN LINK IS LIKE HITTING A BRICK WALL. MAKE SURE ALL THE URLS IN YOUR NAVIGATION ARE VALID.
SITEMAP
A sitemap is essentially a map or directory of all the pages in your website. It guides search engines throughout your site with the names and locations of pages.
LINK BUILDING
Search engines use both internal links and backlinks to rank your site. You create an internal link by linking from a keyword or sentence on one page of your website to another page on your site. Even more important for search ranking are backlinks — links from other websites that point to your site.
IMAGE OPTIMISATION
This one's got its own section. Keep reading to learn how to get SEO juice with the images on your website.
DO I NEED A BLOG?
If you want to increase traffic to your website, boost search engine rankings, and establish yourself as a subject-matter expert — yes.
A blog also is a great way to interact with your customers and capture feedback about your products and services.
Again, this is all about adding valuable content to the mix. A blog gives you an amazing content marketing vehicle — a means to talk about your company's values, provide a look behind the scenes, and offer useful solutions without sounding like you're "selling."
Your blog's content makes excellent fodder for your social media sites (more on that soon), and it's a great way to build relationships with industry influencers and customers by linking to relevant content on their sites. Post consistently for the best results, at least once every two weeks — more often is better.
B2B COMPANIES THAT BLOG GENERATE 67% MORE LEADS PER MONTH THAN THOSE WHO DON'T.
WHY SOCIAL MATTERS
Establishing a business presence on the social networks where your customers and prospects spend their time is sort of like setting up a booth at the world's largest virtual trade show (although sometimes it feels like a circus). You can bet your competitors are there, vying for the attention of all those potential customers with flashy banners and giveaways.
There's a crowd gathered around the booth playing a funny video and the vendor live-streaming a makeup demo.
Why is social media so important for businesses today, and more importantly, how can you get in on that action?
SOCIAL MEDIA SITES AND BLOGS REACH 8 OUT OF 10 OF ALL INTERNET USERS.
YOU CAN USE SOCIAL MEDIA TO:
BUILD RELATIONSHIPS
By developing a following on popular social media sites, you can connect with your customers and prospects and share content with large numbers of people. Social makes it easy to target specific customer questions or issues, while making the same information available to all existing and potential customers.
BUILD YOUR BRAND
Social media gives you the opportunity to share valuable information about your business and showcase your personality.
DRIVE TRAFFIC TO YOUR WEBSITE
Including a link back to your website in interesting social posts can generate serious traffic.
ESTABLISH EXPERTISE
Share your knowledge and experience to build credibility as an industry thought leader.
MAKE SALES
Ultimately, these activities — connections, brand building, driving traffic, establishing expertise — all lead to the same place: sales.
Establishing and maintaining a strong social presence for your business definitely requires a commitment of your time, but the benefits make that investment worthwhile. By getting social, you will continue to build credibility, raise brand awareness, and, especially, engage with current and potential customers.
CONTENT IS FIRE, SOCIAL MEDIA IS GASOLINE — JAY BAER
PICK YOUR POISON
Just like IRL (in real life) you can't be everywhere — in your studio, at your son's soccer game, at the grocery store, in the bathtub with your favorite novel — at the same time.
Same for social media. You've got to figure out where the people who are most interested in your type of products or services are spending their time and go there.
Different social networks appeal to different demographics.
Some platforms specialise in visual content — perfect for product-centric businesses. Some networks allow you to share long-form content, live-stream video, stay on top of industry trends, and "spy" on your competitors.
Do some research. Where is your target audience hanging out? How about your competitors? What benefits can each network offer your business? Analyze and prioritize. Take all that data, look at it in the context of the marketing goals you've established for your business, and define a social media strategy that works for you.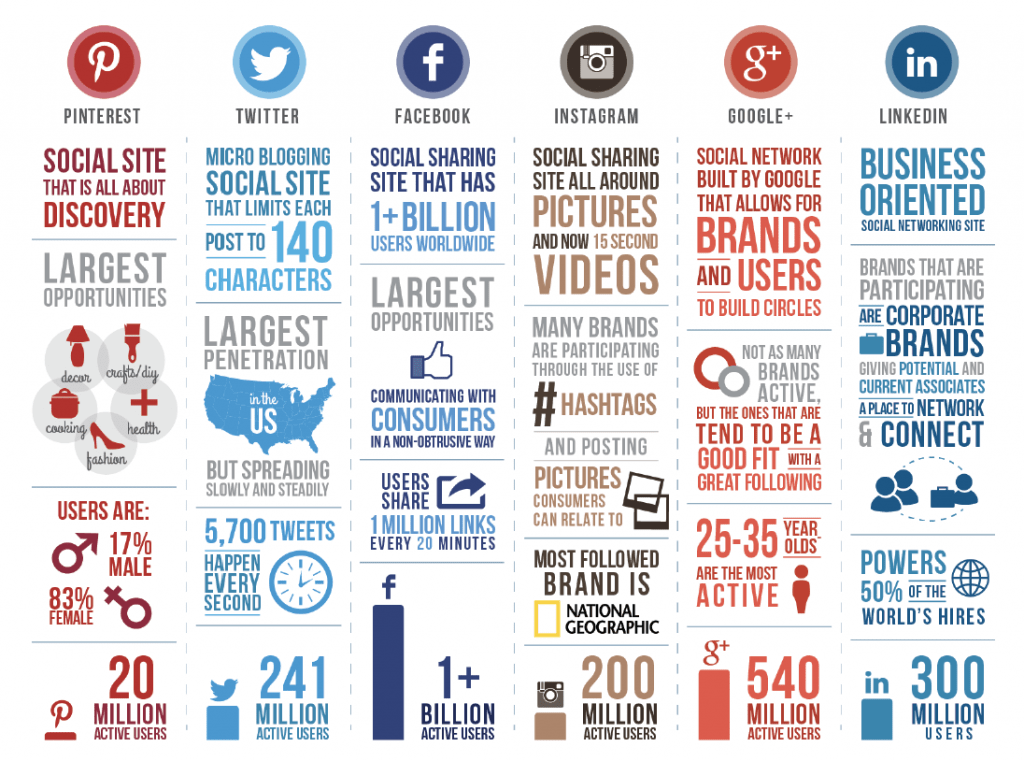 STEP 6: DRIVE TRAFFIC TO YOUR WEBSITE
HOW TO GET VISITORS
We've talked about how your social profiles can drive visitors to your business website (it's huge), but we're not quite finished on this topic. Driving traffic to your website is an ongoing process. Like maintaining your hair colour. And raising your children.
Like any worthwhile endeavor, attracting visitors to your business's online home takes time and patience. You might even need to pull out your debit card. Let's look at a handful of proven strategies …
CREATE COMPELLING, SEARCH-WORTHY CONTENT
Yup, that again. Whether it's a shareable infographic, entertaining how-to video, or blog post about why spending time in your online store is more fun that watching Game of Thrones, make content that people can't find anywhere else. This is the kind of stuff people will want to link to from their own websites and social profiles (remember backlinks?). Make sure they find that amazing content by optimising it for search engines.
Remember that domain you registered? The one connected to your website? You can use it to send branded email to your customers and subscribers. Every time you send an email from that business-class account, you're marketing your website. Cool, huh?
To really drive traffic back to your website, include strong calls-to-action (CTAs) in your emails. Come up with short, catchy phrases that inspire readers to take a specific action on your website. And that's just one of many ways you can use email marketing to drum up business on your site.
MAXIMISE BLOGS
Share snippets from your blog on your social channels, with links back to the entire post on your website. Drive even more visitors to your site by hosting guest posts from industry influencers and satisfied customers — and ask them to share the link to the post on your website with their social followers. And don't forget that all that fresh content you add to your blog is like candy for search engines.
JOIN ONLINE COMMUNITIES
Like local meetups, there are online communities for just about every interest and industry you can imagine. Check out forums, blogs and chats related to your market. Leave meaningful comments with links back to relevant content on your website.
RUN PROMOTIONS
Everybody loves a deal. Offer online-only promotions, redeemable through your website. Get the word out by sharing the promotion on your blog and social media profiles.
LEVERAGE LOCAL REVIEWS
Make sure your website address is listed correctly on all those online review sites that 88 percent of your potential customers are visiting for info. If they like what they see — including your feedback — they're likely to click the link.
STEP 7: GENERATE LEADS
Driving traffic to your website is key, but converting your website's visitors into leads is how you'll stay in business.
That means figuring out who's visiting your site and contacting them directly so you can work to convert them into customers.
At the end of the day, you're in sales. So don't be timid about asking website visitors to share a little bit about themselves. A little bit. A name and email address.
That's all you need to start converting, and most people are used to giving out that info online. Ask for a phone number if you've got a callback strategy in place — but don't be shocked if some visitors shy away from giving their digits.
INCLUDE YOUR BUSINESS PHONE NUMBER OR EMAIL ADDRESS ON EVERY PAGE OF YOUR WEBSITE.
Now that you've got all those email addresses, what are you going to do with them?
How about reaching out to those customers and prospects though a branded, professional-looking email campaign that's brimming with value for its recipients?
Great idea!
Email marketing offers a targeted approach to connecting with current and potential customers. After all, they've opted in to receive your email correspondence. It can build brand awareness and loyalty. Even better? The cost. Harvard Business Review called email marketing "the most cost-effective advertising method available today."
When you invest in a legit email marketing program you get all kinds of goodness:
– It's easy to add a sign-up widget to your website.
– You'll store email addresses in a user-friendly database.
– You can export email addresses for use in social media campaigns.
– You can create attractive email campaigns using templates.
– You can track open rates/who clicks on what
BUSINESSES THAT USE EMAIL TO NURTURE LEADS GENERATE 50% MORE SALES-READY LEADS AND AT 33% LOWER COST.
STEP 8: MEASURE, IMPROVE, GROW
You've got a website and social profiles in place, plus the know-how to drive traffic to your site, engage with followers, and generate leads — so you're in a great position to grow your business. What now?
STAY SOCIAL
You'll want to tweak your social media strategy as you gain some experience engaging with followers. What types of content get the most positive response? When are your engagement rates the highest? Is it time to try some paid options? Which social networks seem to be working best for your business? You don't want to spread yourself too thin, so make smart use of your time on social. Focus on deeper engagement on the sites that matter most to your audience.
GET MOBILE
If it isn't easy for your customers to navigate through your website on their phones and tablets, fix it. According to Kissmetrics, 73% of mobile Internet users say that they've encountered a website that was too slow to load, and 51% have tried to navigate through mobile sites that crashed, froze, or spit back error messages. As more and more consumers turn to their mobile devices to browse and buy, it's important to keep your site off that mobile performance naughty list.
HONE YOUR FOCUS
Channel your time and energy into online efforts that prove most effective for your business email marketing, a particular social media platform, a call-to-action on your home page, whatever works best for you. After you get some skin in the online game, take a step back, and evaluate your progress. Revisit your online marketing goals, and adjust based on your experience.
Updating and maintaining your website's content and functionality is key to staying current and delivering what your visitors want and need. Plus, continually updating your site with relevant content will work wonders at improving your search engine visibility. Keep it fresh with consistent blog posts, up-to-date photos and videos, and design tweaks that reflect evolving trends.
STEP 9: 10-POINT WEBSITE REVIEW
Wondering if you have an effective small business website? Your site should be more than a glorified business card. It should entice visitors to learn more about your products and services, establish that you're a credible business, and turn your visitors into customers. Even a website with just the bare essentials should help your business grow.
Answer the questionnaire to see if you've covered the basics:
Do you have clear/concise statements on the home page about who you are and what you do?
Does your home page have a call-to-action (i.e. Call now, Watch demo)?
Do you have an about us page that represents your passion for the business?
Have you included customer quotes, reviews, or testimonials?
Have you clearly defined your products/services, pricing, warranties, and refunds?
Are you collecting email addresses through signup forms?
Is your primary contact information on every page?
Have you included "trust logos" (i.e. Better Business Bureau, Awards, Authorized Dealer)
Can your visitors share your website through Facebook and Twitter?
Do you promote a "special offer" for your website visitors?
All done? Great! Now tally up the number of Y's you circled to get your diagnosis.
0 – 4 Sounds like you're just getting started. Give us a call. We'll help you out.
5 – 7 You're on track. Pick one area to focus on this week. Make it happen.
8 -10 You're a guru. It might be time to take the next step. Email marketing?
Well, I hope you have enjoyed this guide.
If you need help with any of the items listed above (website design, SEO, social media, website maintenance, email marketing, domain registration, graphic design, branding) please send us a message on our contact form and we will gladly help you.